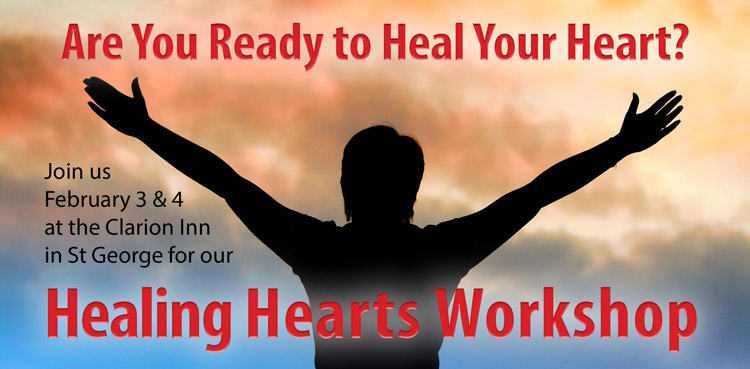 If you're carrying emotional wounds of grief, sadness, fear or anger in your heart you don't have to. Because emotional injuries, like physical injuries, can heal very quickly if the proper steps are taken. Unfortunately most of us have been taught to deal with hurtful experiences in ways that block the healing process. The good news is that the path to inner healing is surprisingly simple. You just have to get out of your head and listen to the wisdom of your heart, and that's what this Healing Hearts Workshop is all about.
Over the course of two days Steven Horne and his assistants will teach you the positive purpose in the emotions that most people consider negative—fear, anger, depression and grief. You will learn effective skills to help you understand these unpleasant feelings and transform them into a sense of inner peace and happiness. If you're carrying emotional wounds from verbal, emotional, physical or sexual abuse, please join us.
You deserve the chance to experience the complete release of the emotional baggage that is holding you back, which is why we want you to join us at this workshop no matter what you can afford.
The workshop is being held February 3 & 4, 2017, 9:30am-5:30pm at the Clarion Inn, 1239 S. Main St, in St. George, UT
The workshop is donation based and no payment is necessary but contributions of any amount are appreciated
Click here to learn more and register online or call 1-800-416-2887
---
This comprehensive, full-color guide provides detailed, easy-to-follow instructions for making and using approximately 250 herbal medicines at home is now available at amazon.com. Steven Horne and Thomas Easley tell you everything you need to know about harvesting, preparing, and administering herbs in many different forms, including fresh, bulk dried herbs, capsules, extracts in water, alcohol, glycerin, vinegar and oil, and even preparations like essential oils and flower essences. The book also covers topical applications of herbs as salves, lotions, poultices, tooth powders, ear drops, and more, and includes an extensive chapter on herbal hydrotherapy.
One of the unique features of this book is that it explains the principles of herbal formulation and provides instructions on the best ways to prepare hundreds of single herbs. More comprehensive than any other guide, thoroughly researched, beautifully illustrated, and presented with ease of use in mind, this book will take its place as the premier reference for those who want to produce all the herbal remedies they need, and to save money in the process.
Featured Courses and Products
---
Featured YouTube Videos
Every winter fear tactics are used to encourage people to get vaccines to protect themselves from the "dangerous" flu and every few years the news media hypes a new flu scare—swine flu, Asian flu, etc. In this Herbal Hour video Steven Horne explains why the flu is nothing to be afraid of and how you can both prevent and cure it with natural remedies.
---
Featured Articles and Blogs